See our complete List for all Clocktower Books Titles.
Runners: Prison Planet - Escape or Die (SF)
(by Rémi Metro, Clocktower Books, February 2013)—In the far future, mankind's Dominion is collapsing under the alien Kaarrk onslaught. Prisoners of war Kion Danos and Amela Brunvig choose escape and terror over death, in their quest for their distant home worlds, loved ones, and a fresh chance to fight the Swarm…
Doctor Night: A Compass News Thriller
(by Victor Branch, Clocktower Books, January 2013)—Jack Breaker is tomorrow's Private Agent of last resort, called in when all else fails. A killer satellite goes missing—stolen by a global terror brokerage network (Black Umbrella), whose maniacal chief (Dr. Night) wants to become ruler of the world…
Autumn of the Republic (Political Thriller)
(by John T. Cullen, Clocktower Books, January 2013)— The most important (and hugely entertaining) political thriller since Seven Days in May. Manipulated and angry, we call for a Second Constitutional Convention (CON2). The result is chaos, a coup d'etat, and civil war on the streets of Washington, D.C. This novel is the first to really think Arcticle V through. CON2 must never happen—it would destroy the USA & the world as we know it…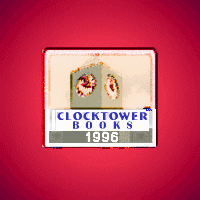 Since 1996: Pioneers in Digital Publishing Clocktower Books launched in 1996 as Clocktower Fiction, the world's third online digital download publisher (interpolating from timelines, like this one, which is missing some important milestones including our own launch). We were pioneers during the halcyon genesis days of the World Wide Web, when digital publishing was as yet virgin territory, and wide open to innovation. We were first in history to release entire proprietary novels (in weekly serial chapters, 1996-1997). For a decade, we published what was then the acclaimed (Web's oldest), professional digital SF/F/H magazine (Deep Outside/Far Sector SFFH)—see [About] and [Museum]. We continue to innovate with the same exciting view of the future.