Stop By: A Sentimental Love Story for the 21st Century—Romantic Fiction
Stop By —
(by Jean-Thomas Cullen, Clocktower Books)—1 NOVEMBER 2014—Romantic love strikes two nice people unexpectedly, rattling their lives. She is a tragic young widow, he a hurting young millionaire. Can they build a perfect future together on the ruins of their broken past lives?…
Empire of Time—SF Series by John Argo
Empire of Time—
SF Series by John Argo, Clocktower Books—AVAILABLE NOW— in print and e-book formats. Already 10 gripping SF novels with fascinating, heroic characters caught up in cosmic and amazing adventures. Danger, love, and struggles spanning time and space. Many more novels in the series will follow in coming months and years. Amazon links for now—much info on this site soon…

Uba-Duba: A Bedtime Story for Children (and their parents)—Children's Books
Uba-Duba—
(by Jean-Thomas Cullen, Clocktower Books, Fall 2014)—AVAILABLE NOW— (e-formats only); this children's bedtime story has thrilled a generation of kids and will work on yours (and their parents as well). Help the little explorers make their way through the jungle to a magic city full of toys—but everyone who tries to get there falls asleep along the way…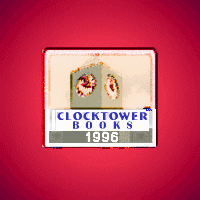 Since 1996: Pioneers in Digital Publishing Clocktower Books launched in 1996 as Clocktower Fiction, the world's first online digital download publisher of book-length, proprietary (not public domain) novels (interpolating from timelines, like this one, which is missing some important milestones including our own launch). We were pioneers during the halcyon genesis days of the World Wide Web, when digital publishing was as yet virgin territory, and wide open to innovation. We were first in history to release entire proprietary novels (in weekly serial chapters, 1996-1997) namely Heartbreaker (SF) and Neon Blue (Suspense), both by John Argo. You can find us mentioned long ago on the Wayback Machine and elsewhere. For a decade, we published what was then the acclaimed (Web's oldest), professional digital SF/F/H magazine (Deep Outside/Far Sector SFFH)—see [About] and [Museum]. We continue to innovate with the same exciting view of the future.