World's First True E-Novels 1996: Documented History

The Haunted Village (THV) 1996. Our other project, a website for SF/DF/H or Speculative & Dark Fiction, was launched a few weeks later on the 4 July 1996 weekend. This time, Brian had an image available from a recent U.K. trip. Again, he left me in charge of the day to day management, and I released my stories as well as the chapters of my novel Heartbreaker (written in 1990; retitled This Shoal of Space in 1998). Brian was doing all of our web design and artwork, including book covers, during this period. As with NBF, we released the novel(s) in weekly serial chapters, described on the next page.
Friends of the Project 1996. Among the friends witnessing the 1996 publication of Neon Blue Fiction and The Haunted Village were K.B., L.F., and J.J. All three were employed at the same software firm as Brian and I during this period. Each is invited to contact JTC as indicated near top of this page. Brian left that firm for another in 1996, and I left in early 1997. I'd love to hear from our friends again, since they will undoubtedly have some historically valuable memories and insights of that period.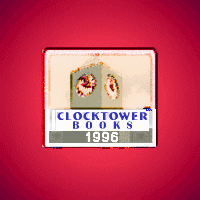 Since 1996: Pioneers in Digital Publishing Clocktower Books launched in 1996 as Clocktower Fiction, the world's first online digital download publisher of book-length, proprietary (not public domain) novels (interpolating from timelines, like this one, which is missing some important milestones including our own launch). We were pioneers during the halcyon genesis days of the World Wide Web, when digital publishing was as yet virgin territory, and wide open to innovation. We were first in history to release entire proprietary novels (in weekly serial chapters, 1996-1997) namely Heartbreaker (SF) and Neon Blue (Suspense), both by John Argo. You can find us mentioned long ago on the Wayback Machine and elsewhere. For a decade, we published what was then the acclaimed (Web's oldest), professional digital SF/F/H magazine (Deep Outside/Far Sector SFFH)—see [About] and [Museum]. We continue to innovate with the same exciting view of the future.