World's First True E-Novels 1996: Documented History
1996 Publishing Innovations. We were the first ever to publish novels on line in weekly serial chapters. The publishing method for both sites that year ran in parallel, including weekly serial chapters released every Sunday evening. This gave us continuity and something new to publish on an ongoing basis, as opposed to being static. We didn't have any more novels at the time, and I had only a few ready short stories. I was always more of a novelist than short story author. Neon Blue (61 chapters) appeared on Neon Blue Fiction, while Heartbreaker (75 chapters) appeared on The Haunted Village. Readers had two options. They could read a new chapter each Sunday (more more likely every Monday morning, secretly, at work, since few people had personal computers in those days); or, if they grew impatient and wanted to read the whole thing right away, I'd give them a free key to download the whole novel in TXT format. In those days, there were no viruses, and nobody stole stuff (yet). It was all very innocent, and everyone had a great time. From the amount of requests, it became apparent most readers were eager, so we discontinued the weekly formet in early 1997 and posted the entire novels on their respective sites.
Friends of the Project 1996. Among the friends witnessing the 1996 publication of Neon Blue Fiction and The Haunted Village were K.B., L.F., and J.J. All three were employed at the same software firm as Brian and I during this period. Each is invited to contact JTC as indicated near top of this page. Brian left that firm for another in 1996, and I left in early 1997. I'd love to hear from our friends again, since they will undoubtedly have some historically valuable memories and insights of that period.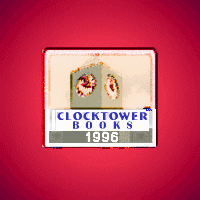 Since 1996: Pioneers in Digital Publishing Clocktower Books launched in 1996 as Clocktower Fiction, the world's first online digital download publisher of book-length, proprietary (not public domain) novels (interpolating from timelines, like this one, which is missing some important milestones including our own launch). We were pioneers during the halcyon genesis days of the World Wide Web, when digital publishing was as yet virgin territory, and wide open to innovation. We were first in history to release entire proprietary novels (in weekly serial chapters, 1996-1997) namely Heartbreaker (SF) and Neon Blue (Suspense), both by John Argo. You can find us mentioned long ago on the Wayback Machine and elsewhere. For a decade, we published what was then the acclaimed (Web's oldest), professional digital SF/F/H magazine (Deep Outside/Far Sector SFFH)—see [About] and [Museum]. We continue to innovate with the same exciting view of the future.